Children's Mental Health and Wellbeing
Connect
Make use of your technology
Regularly video calling and message those important in your life. There are lots of free apps and websites you can use such as WhatsApp, Facebook Messenger, FaceTime, Google Hangouts, Skype, Microsoft Teams and Zoom. These technologies will also help you to feel more connected to friends and family who you can't see much of at the moment.
Give
Some of our children have given up their time recently for initiatives that they care about, such as Eva, featured here in "Hear the Roar" magazine in 2021: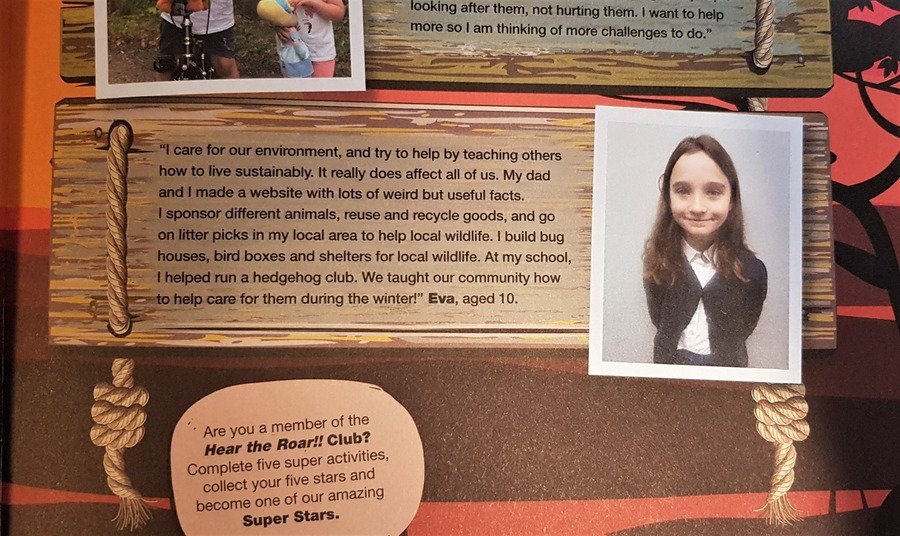 Take Notice
Paying more attention to the present moment – to your own thoughts and feelings, and to the world around you – can improve your mental wellbeing. Some people call this awareness "mindfulness". Mindfulness can help us enjoy life more and understand ourselves better. Here are links to information and videos mindfulness and managing anxiety:
NHS Online You can even check your mood using their simple mood self-assessment quiz.
Headspace are offering access to some free meditations, sleep, and movement exercises to support people through the coronavirus crisis.
There are many guided meditations for children:
Headspace website, including this excellent video
BBC Good Food Magazine website
Or try:
Or go on a walk and listen to what you can hear!
Keep Learning
Our school website is full of places for you to keep learning:
Learning from home, the history of our school, and our curriculum page are great places to start. BUT, learning doesn't start and end in school. Think at the end of every day...
What have I learned today?
Be Active
Sport England Campaign Join the movement! We're supporting the Sport England campaign to encourage people to be physically active. Visit the website for lots of helpful information on keeping active in and outside of the home, with exclusive offers and workouts from content providers such as Les Mills on Demand, Joe Wicks (The Body Coach) and FiiT.
10 min workouts Short on time? These 10-minute workouts might be ideal! These equipment-free fitness routines are great to do at home and short enough for you to easily fit them into your daily schedule